We have been receiving a lot of questions about our different courses. Although we had announced on our website that we planned on unveiling them in June, it might have been overly optimistic considering the crazy winter we had here!
We have actually gone out for the first time on May 29 and there was still a lot of snow! But let's take a few minutes to present our concept for the course which we hope will answer most of the questions we've received so far.
Imagine the shape of a snowman!
First of all, our 100-mile course is composed of 4 loops of 25 miles each that cross at three different spots (imagine a four-ball snowman!). The start and finish lines will all take place at the main site in downtown Percé. Our playground is so vast that you will not have to take the same path twice, even though it would be much simpler for us!
Checkpoints will be located every 12.5 miles (25 km). And most of all, cyclists will be able to choose, at checkpoints, if they want to pursue the race into the next loop of if they'd rather go back to Percé for the same distance they pedalled up until that point. Cool, isn't it? At each checkpoint you will find a first-aid team, basic tools for quick bike fix and, of course, liquids and solids to fuel up!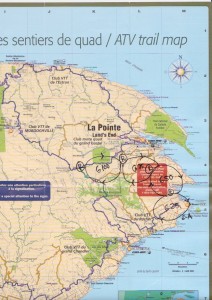 COURSE DETAILS
Gaspesia 25
The first 25-mile loop (G25) is definitely the most challenging (of course, if you choose the 50, 75 or 100-mile races, it means that your first and last 12.5 miles will be epic, calling on your best technical abilities!). That first loop is basically an amalgam of technical and winding single-track trails, paved pathways (though rather unique!), double-tracks, beaches, railways, more technical single-track descents and even some portaging! According to BaseCamp, expect an elevation gain of about 1,626 m!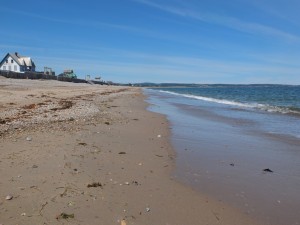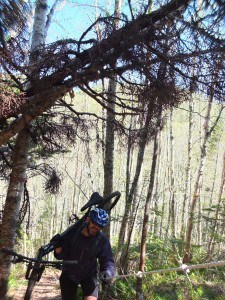 Gaspesia 50
The second loop (G50) will be the less technical part of our course, allowing you to enjoy the stroll without too much elevation. We are still looking for the best path, which means this will be the last section to be unveiled! But wait and see what's next…!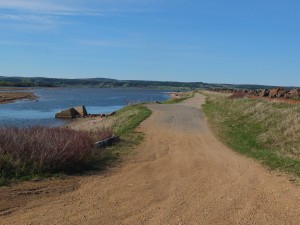 Gaspesia 75
The third loop (G75) will bring you to one of the highest peaks of the Gaspesia 100 with an altitude of 450 metres in the Mount Pudding Stone area. Riding this mountain range will bring you to discover the breathtaking landscape of the Percé region and the Forillon National Park. That third loop will be quite technical while still offering several double-track options.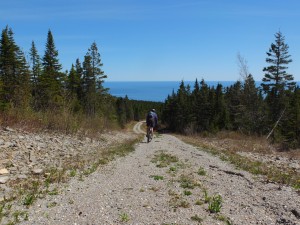 Gaspesia 100
The fourth loop (G100) will get you to the heart of the Gaspesia 100 playground, in the St-Jean River area, our majestic and world-class salmon river! This fourth loop will bring you to ride forest and double-track trails. And who knows, maybe we will discover some single-track along the way to challenge you some more!
Check out our website and social media channels regularly! We will publish the evolution of our trail work and pictures of our field visits! Here are some pics of our first outing!